This was written by Leslie for the Miss Matatabi Makers series.
∆ ∆ ∆
I love Nani Iro fabric and now Naomi Ito has come out with a line of brushed cotton fabrics. More beautiful fabric to fall in love with!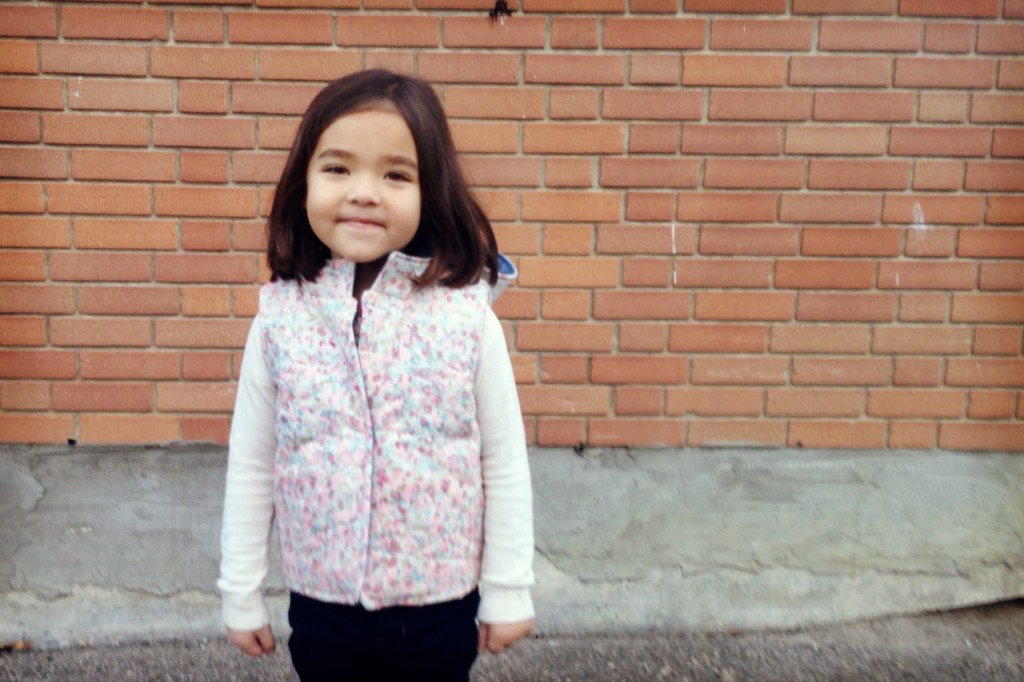 I have had this little vest pattern for years and hadn't made it yet. Anika helped choose the fabric but it took some convincing to get her to agree that making a vest would was a good idea.
The pattern was for a simple unlined vest using quilted fabric. I was excited to make my own quilted fabric for the vest! So I did some random quilting on this beautiful and soft Nani Iro Fuwari Fuwari fabric and backed it with some Thinsulate batting for extra warmth. After I had the idea to quilt the fabric myself I saw that you can actually buy this fabric (plus a few more designs) already quilted from Miss Matatabi's shop. So perfect!
I lined the vest with this triple gauze fabric, which is a perfect weight and softness for a lining. I think this blue it's a great compliment to the colourway of the Fuwari Fuwari fabric my little one and I chose.
Luckily my girl is in love with her new vest. It fits her perfectly right now and I am really hoping it still fits her in the spring. I am contemplating making matching vests for Anika and I next year!
I also sewed a bento bag as a gift for my mother using the same Nani Iro fabric. Making these lunch bags is such a quick and easy project. I find using beautiful fabrics for such simple projects is the best combo! I used this pattern as a starting place and then made a couple of modifications.
(Note: The vest pattern was bought from a Japanese blogger years ago and unfortunately I don't have any contact information for her anymore.)
∆ ∆ ∆
Thank you, Leslie! Connect with Leslie on instagram, pinterest, and flickr.
You might also like