Remember the Roly Poly pinafore I made a while back? Rachael from Imagine Gnats has released another great pattern and as I loved making the pinafore so much I was thrilled to be asked to be a part of the Tumble Tee tour.
The tumble tee is a satisfyingly simple pattern with options to customize in many different ways. I spent a ridiculous amount of time thinking about which fabrics to use and could not decide on just one version so I ended up making three!
My daughter is almost 4 and measured as a size 2 for this pattern so I resisted the urge to make a larger size and cut out a size 2 for the first TT. I went with 2 pattern pieces at the front and instead of colour blocking I used the selvedge as a vertical border for the seam down the middle. To balance the print I added a teeny tiny pocket. The fabric is nani IRO Field Star in pink. I did make a couple of modifications to this tumble tee. I decided to finish the neck and armholes with this cotton lawn bias binding. Thinking that would probably mean I couldn't get the shirt over A's head I widened the neck hole to make it a more like a boat neck shirt. And I made that modification with the scientifically proven method of eyeballing and cutting. You're familiar with that method, right? If you are using knits or wovens with some stretch, as the pattern suggests, you will not need to make any modifications to the neck opening at all.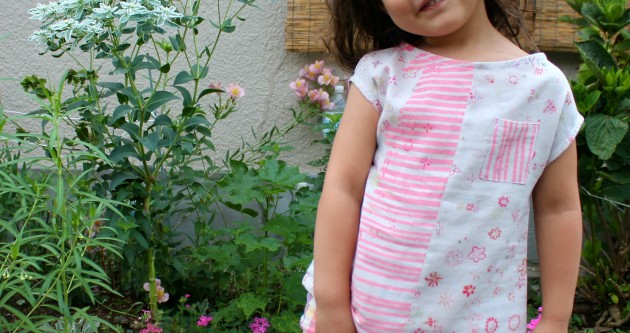 I think the size 2 fits her fine but as the small humans do tend to grow quickly I went up to size 3 for the second one so I could compare the fit.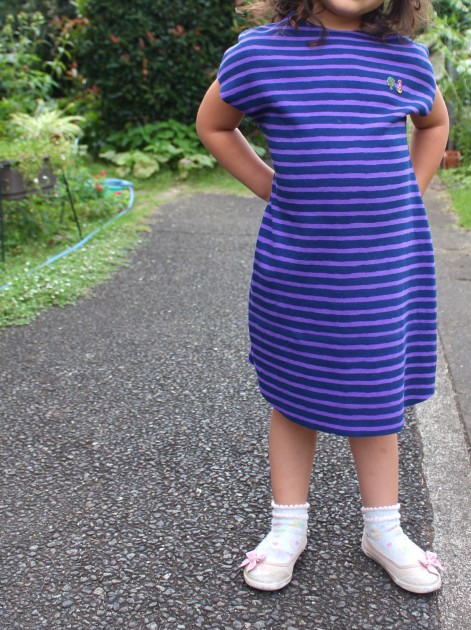 This is the dress version and also happens to be A's favourite. That surprised me but I guess dress trumps pink. Now I have that sweet bit of information I can carry on making dresses that are not pink every time. Victory! I made no modifications to this version and it may have been one of the quickest things I have ever sewn. The hem, neck, and armholes are unfinished, which is one option the tumble tee pattern suggests. I think matching the stripes took me longer than the actual sewing but even that was not difficult as this fabric is a dream to work with. It is the Basque Border cotton knit by Rica Asanuma from the Melange collection for Homecraft. It is only 80cm wide but I was able to cut the size 3 front and back out of that width with no problem. I really love this dress and am dreaming about making something similar in my size. A likes the little tree and matryoshka patches and has tried to pull them off and play with them more than once. Fun.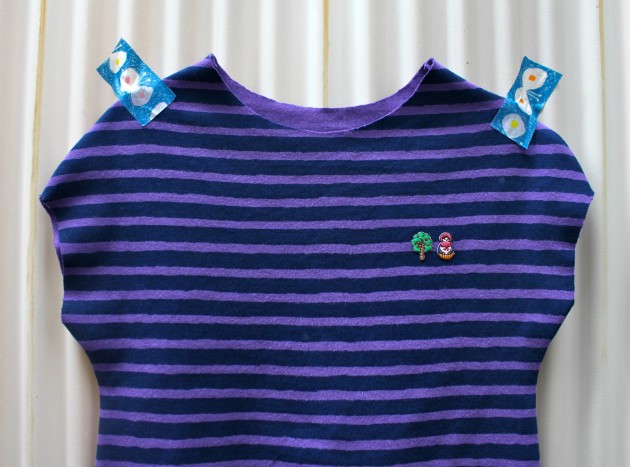 The third version of the tumble tee is something I lovingly refer to as The Wearable Mullet. You know how it goes, (casual) business in the front, party in the back! I made more modifications with this top but you can see there is still a tumble tee in there. I think what I love most about this pattern is the shape. It is simple, classic and can yield so many different looks.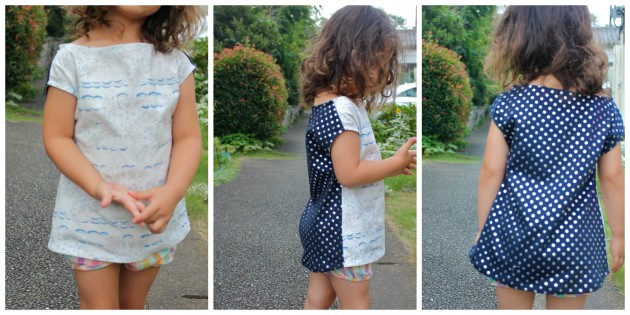 The front of this shirt is woven and the back is a knit. My favourite shirt is similar - knit on the front and woven on the back and I have wanted to recreate something like that for months. The front print is Hanakazari from Kiki Parfait, the sweet new collection from Kyoto, and the back is a cotton knit with metallic silver dots I picked up from a local store. Both of these fabrics make me really happy and I'm tempted to make a matching shirt for myself. Do you think I should? I'm less worried about wearing matching shirts than I am about wearing tiny metallic dots. Don't want to look like a flashy 4 year old.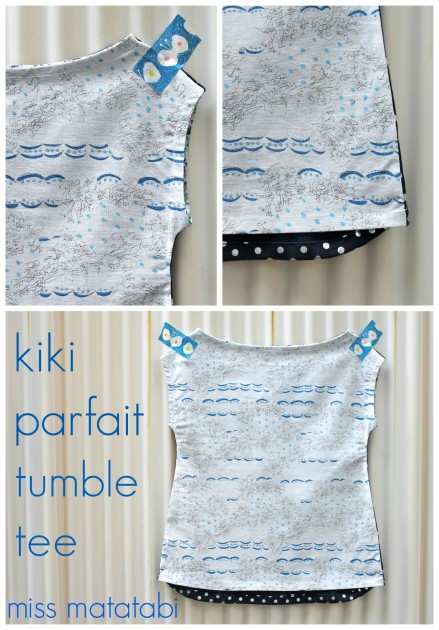 The modifications I made here are - widened the neck opening and used cotton lawn bias binding to finished the neck and arm holes (this stuff has changed my sewing life- for reals). I also added about 2cm length to the front piece and then did some high-low action with a slightly longer, curved hem at the back.
And there you have it! You can purchase your own copy of the Tumble Tee here and don't forget to show off your creations in the Imagine Gnats flickr pool or by using the #tumbletee hashtag on Instagram!
Thank you for visiting and thank you, Rachael! You can follow the rest of the tour here!
8.5 Sew Sweetness & The Crafty Kitty
8.6 One Girl Circus & luvinthemommyhood
8.7 Sew Delicious & Living with Punks
8.8 girl like the sea & Suburbia Soup
8.9 Buzzmills & Miss Matatabi
8.12 Alida Makes & Max California
8.13 Crafterhours & Kitschy Coo
8.14 La Inglesita & sew chibi
8.15 EmmylouBeeDoo & LBG Studio
8.16 Petit a Petit and Family & girl. Inspired
* I received a copy of the tumble tee pattern as part of this tour but my opinions about the pattern are honest and my own. xo