When Shelly from Figgy's asked me to join the blog tour for her new Heavenly pattern collection I jumped with excitement. I have never met Shelly in real life but I know that she is a generous and good person, and an excellent pattern designer.
The Heavenly Collection consists of seven different patterns including several for knits. My daughter wears a lot of knit clothes and a lot of skirts, or round-and-rounds as she calls them, so I decided to make the Celestial Maxi skirt and the Celestial Pullover.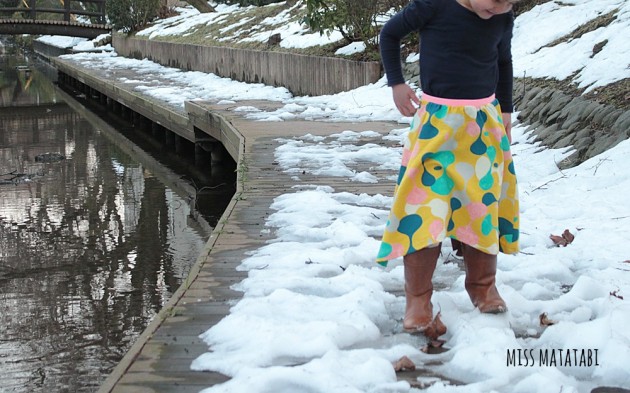 The skirts I usually make her consist of two rectangles of fabric, a hem and a casing for an elastic waistband (my brain loves a simple sewing project) so it was fun to use a skirt pattern for a change. The maxi skirt is longer than the skirts A normally wears but I thought she might enjoy the drama of it and she loves it. It took no time at all to make and I especially love the exposed elastic waistband.
One thing I like about both patterns is there were only a few pattern pieces to print out and tape together. I'm no fan of spending hours printing out, cutting, and taping together pieces of paper, and always losing that tiny corner piece before it's time to sew so I appreciate Shelly for designing patterns that are simple to prepare and yet look good. I used this cotton dobby print for the skirt. It is wonderfully soft and drapes well and I think it works really well with the Celestial maxi.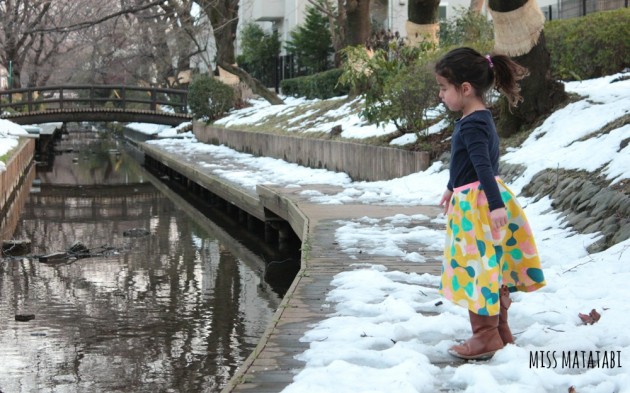 The pullover took longer to sew because I decided to make it reversible, partly to avoid hemming and partly because reversible kid's clothes are awesome. Just as I was printing the pattern a new shipment of fabric arrived including some very cool quilted polka dot knits and before I knew it this fabric was washed and ready to go.The reverse side is a knit from the stash and I think these two together make a pretty cozy pullover. I'm not too happy with my topstitching here but I choose to live with it.
The quilted knit does not have much stretch so I omitted the cowl although I do love that part of the pullover. I also looked into my crystal ball and saw my daughter rejecting the cowl based on it being too hot, too tight, too something mysterious that only a small person can understand so that was another reason to leave it off.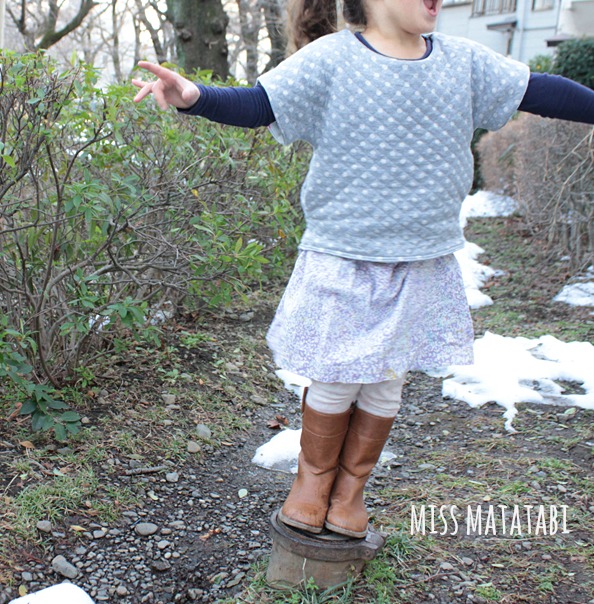 She loves the pockets and I love that I got to make her another grey piece of clothing she will happily wear.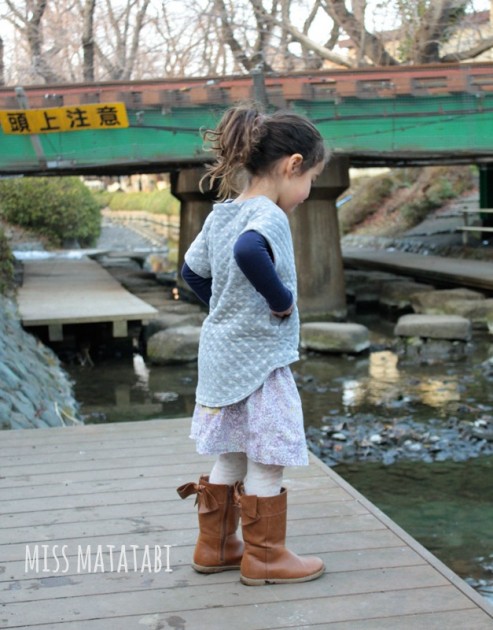 I'm excited to make more clothes from the collection and as soon as it warms up a bit here an Ethereal Dress in cotton lawn is happening. I hope you'll stop by the other guests on the tour if you haven't already. There is so much sewing goodness out there. And visit Figgy's blog for a change to win a mega-giveaway!
Shelly, thank you so much for having me along as part of the tour!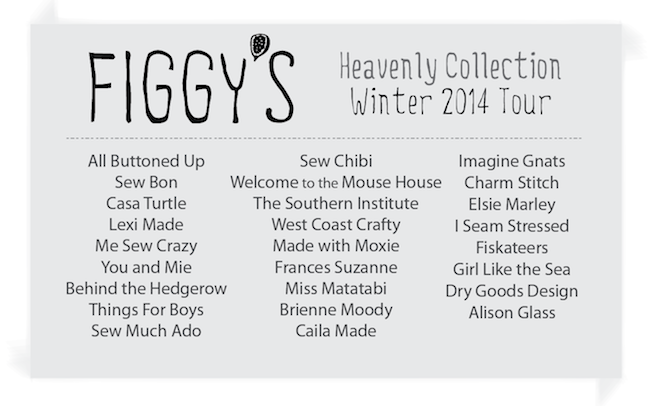 *I received the Heavenly Collection patterns from Shelly to take part in this tour but all opinions, as always, are my own