I am beyond excited to be here today with our exclusive interview with Naomi Ito, Japanese artist and textile designer. Beloved in Japan and internationally amongst both art fans and textile lovers alike, Naomi brings uniqueness to the sewing world in the form of textile paintings. She has been creating nani IRO, her textile label for Kokka, since 2001 and each collection is stunning reflection of Naomi as an artist. Naomi's textiles are so breathtakingly beautiful it is truly a joy to be able to work with and wear her fabrics. I recently had the pleasure of meeting Naomi and listen to her speak about her 2015 collection and she was incredibly warm, bright, and inspiring. This is her first translated-into-English interview and I'm thrilled to be able to share this with you.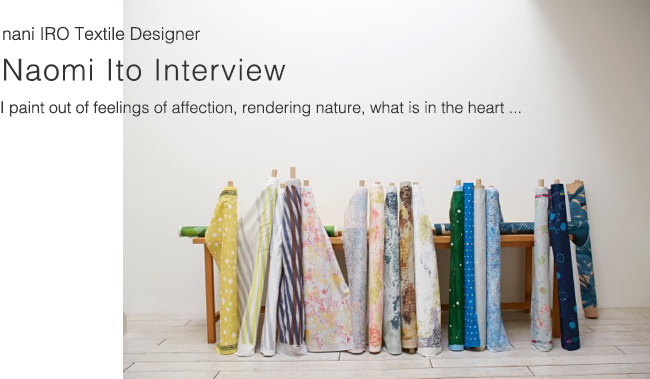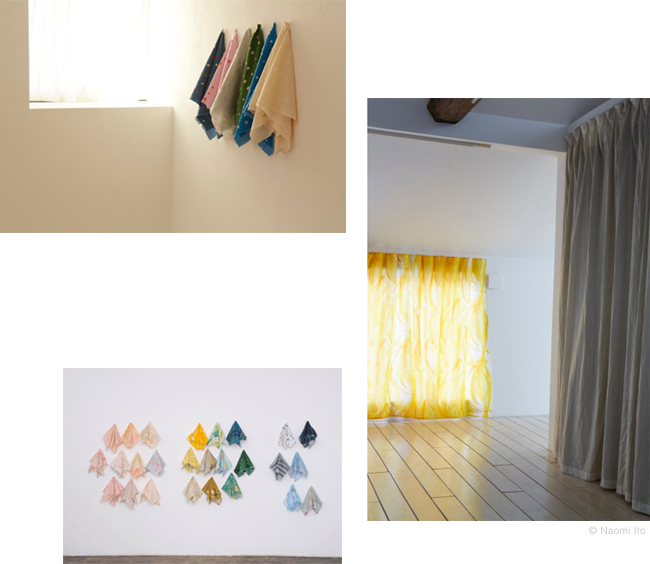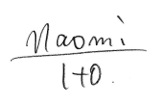 Naomi Ito
Textile designer / watercolor artist
Born in 1971. Began showing her work in 1994 in Osaka, Tokyo and Paris. Her works have been used in TV and print advertising, picture books, and on book covers, and her prints and other artworks shown around Japan and internationally. She has been producing textile paintings under the label of nani IRO Textile since 2001, and in 2012 launched the label ITSURA TEXTILE, designed to link art and living.
Miss Matatabi Does your textile brand nani IRO have a concept?
Naomi Ito Nani means beautiful in the Hawaiian language. Iro is the Japanese word for color, and from its kanji character, harmony, balance, and a meeting of light and dark. I paint out of feelings of affection, rendering nature, what is in the heart, and so on, as if plucking a flower complete with the air around it.
MM With many nani IRO textiles, the approach is more artistic or painterly than one of design: what is it that inspires your work?
NI I paint to spin a tale that portrays a kind of comfort, that makes people happy when they feel it on their skin. I paint in the hope that each textile will be like a single poem, a single letter.
MM Obviously we don't get to see them, but what are your originals like?
NI I usually paint them in watercolors. More recently I've been enjoying producing textiles using other techniques.
MM Word has it that dyers say printing nani IRO is tricky due to all the fine detail. Can you describe any parts of the process leading up to the finished fabric that you approach with particular care?
NI Apparently it is becoming more unusual these days to give specifications for one color at a time in a textile by using swatches for each color. I 've become very accustomed to choosing one color at a time from among many. And nani IRO textiles can have as many as 23 colors laid down using separate silk screens. Colors can shift at the critical stage though, so I make it my business to go to the factory during that part of the process and make any necessary adjustments. The dyers and I compare how we feel about the results as the job progresses. These are dyers I've worked with for 14 years, so bouncing ideas off each other is hugely enjoyable, and they are partners I really depend upon.
MM You've produced a lot of different fabrics to date: do you have any favorites, or any that you feel particularly attached to?
NI The first one I painted, 14 years ago, was POCHO. I painted it at what was then my little studio in Osaka. I remember my mother suddenly turning up to visit when I was working on it and exclaiming, "Ooh, that's good!" Her father (my grandfather) designed textiles for menswear.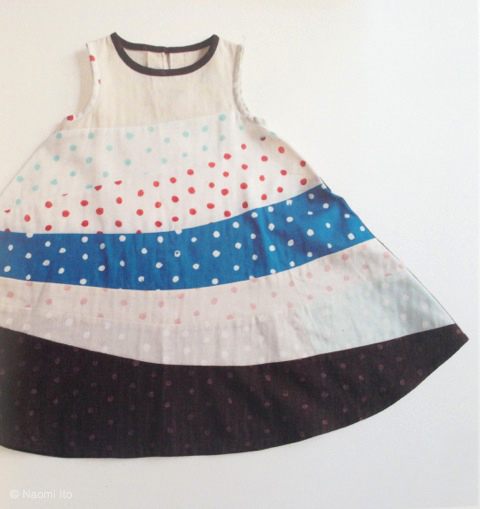 MM What was the theme for the collection you released in January 2015?
NI Out in the countryside where I live, in front of the studio is a small orchard we've planted. Beyond it are fields, then you cross a stream to a forest. Every day as I look out the window, nature goes about its business in all its wondrous variety. This landscape I gaze on daily has so many different faces. When I take things felt on the loveliest, most sparkling days of my little existence and render them as pictures in my own style, joyfully painting vestiges of freshness and light on white paper, for some reason I find myself, as I pursue my practice, with an incredible sense of sharing, like the soul of someone in a faraway land whom I have never met connecting with my own.
MM Have there been any particular designer or artist influences in your textile design or painting?
NI I think the first artist I came to like when I began painting was Georgia O'Keeffe. It wasn't just her paintings that attracted me, but her lifestyle, where she lived, how she comported herself.
MM Who would you collaborate with if you could? Only hypothetically, so it could be some great figure from the past even, or someone close to you.
NI I'd love to make textiles with my granddad! It would be wonderful to design menswear fabrics too and show them to him.
MM On a slightly more personal note, do you have any favorite objects or other things, daily rituals, things you're particularly interested in at the moment?
NI One thing I can say is that taking time for tea is precious to me. I start with that first pot in the morning, then make fresh batches as I paint, my way of pausing for breath. There are tea fields nearby. I also put tea flowers in my tea. I love that time of the morning spent deciding on today's combination of cup and leaves.
MM Working this much while bringing up a child must be a struggle at times. How would you describe your working style?
NI Once I've taken him to kindergarten, my time is my own. I make some tea, give the studio a quick tidy, and work out my schedule for the day. Then, again, when he goes to sleep, I choose whether to go back to painting, or read a book, write a letter, do some cleaning, or maybe just go to sleep as well.
MM What is your studio like?
NI It has a large window facing east, and from it, a view of the natural surroundings.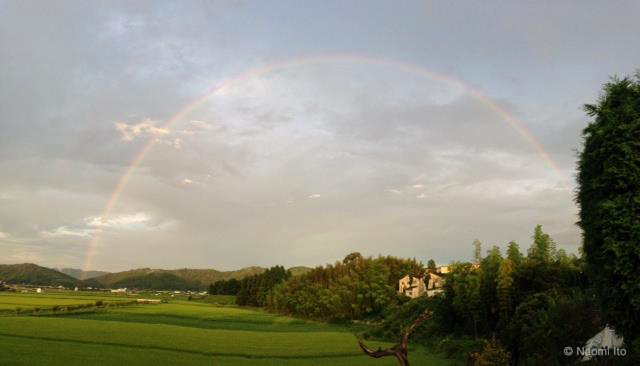 MM Many of your fans have children of their own I imagine. These days you work as an artist, but what was your own childhood like?
NI I used to love playing outside a lot – picking flowers in the meadows, having little adventures on my bike with other kids around the neighborhood. I also used to be a very keen pianist and played right up to starting university.
MM nani IRO fabrics are used in all sorts of settings, have any in particular made an impression on you?
NI Different companies have kindly wanted to use my textiles, and in terms of collaborations, I'm always grateful for the unexpected encounters I have during the production process. Not to mention when I spot my fabrics around town! And when I come across handmade pieces on places like Instagram! To me the physical presence of the fabrics is suffused with the joy of painting, joy of choosing, of making, and of giving and sending.

Now that I think of it, one striking scene does suddenly spring to mind. A French artist had a store in Tokyo, and to coincide with the day of my visit he took down the flag outside and without any fuss swapped it for a piece of nani IRO fabric. I remember tearing up at this wonderful surprise, whimsical yet in perfect taste.
MM What have you got planned next?
NI At the moment I'm painting next year's textiles. Get ready for a new world of nani IRO, with a new sensibility. I'm painting what strikes a chord with me now, unfettered by the past. I'm also getting ready to publish a book.
MM Do you have a message for your overseas fans?
NI Thank you for finding my textiles. For picking them up, putting them next to your skin, using your imagination to give them a new life... I don't really have the words to describe it.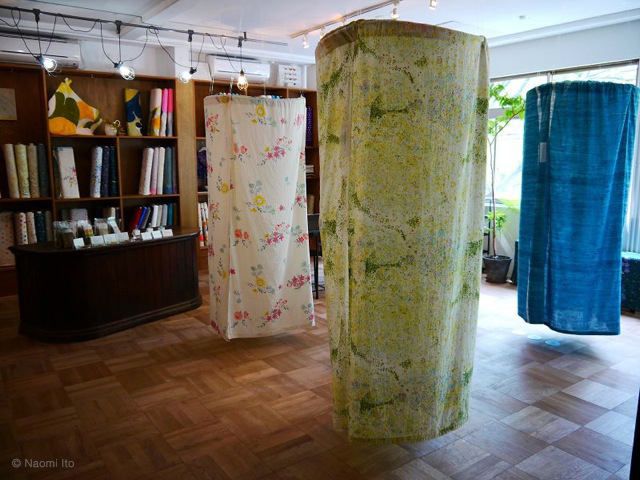 A display at ATELIER to nani IRO. Enter the chambers to savor a world of fabric alongside the fragrance of individual blended herbal oils inspired by each design.
Thank you very much Naomi!
Follow Naomi on instagram where she shares lovely glimpses into her daily life. If you're ever in Japan be sure to visit the flagship nani IRO store in Osaka, ATELIER to nani IRO. It has the largest collection of nani IRO fabrics in Japan and is a beautiful little space. In the meantime we have a large selection of nani IRO fabrics in our store and happily ship worldwide. Also, have you heard about nani IRO life piece Award? It's a nani IRO sewing contest held every year and for the first time it is open to international entries. I'm really excited about this and I hope you'll enter! Registration is open from June 1st to August 29th and you can enter here.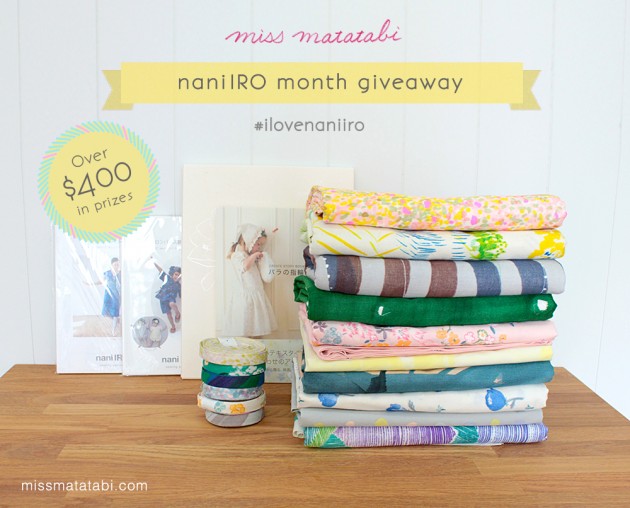 Translated from Japanese by Pamela Miki Associates.
© 2015 Miss Matatabi All Rights Reserved
You might also like